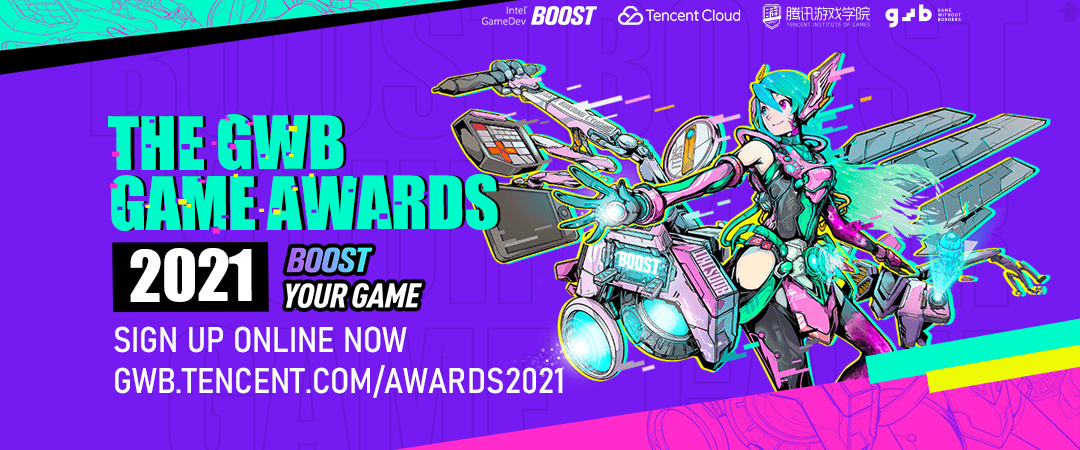 Announcing the GWB Game Awards 2021
Today, everyone here at Tencent GWB is delighted to announce the 2021 edition of our annual awards competition — The GWB Game Awards. The GWB Game Awards 2020 were a huge success, with more than 200 teams submitting their games to the international arm of the competition, and we saw these teams originate from more than 30 countries.
Over the past few months, we've worked incredibly hard to think about how we could improve the awards. Promotion is great and we will continue to work with our partners to do that, but we also want to make sure that teams that take part stand the chance to win prizes that help them finish their game and make success more likely in the long term. We also wanted to work on our messaging to make sure teams knew exactly what the GWB awards were, in comparison to other games industry events.
So, with all that in mind, lets talk about The GWB Game Awards 2021.
Not A Digital Showcase
The GWB Game Awards is an online indie game competition, but it is NOT an online exhibition or a digital showcase. Here's what you need to do to take part:
1. Go to our Awards page on our website
2. Click Submit Game and sign up
3. Submit information about your game and a game build.
And that's it.
People are busy, and they don't have a lot of time to add yet another event into their schedule. This is not something which teams need to prepare a lot for — if you submit your game, its in consideration for the awards. If it makes a shortlist, we'll let you know. If we have some promotion or features we'd like to do about it (internationally or on the Chinese Mainland, more on that later), we'll contact you and see if you're interested.
Otherwise, the 30 minutes to an hour you take to submit your game is all the time you need to put aside until later down the line.
Discovering the best indie games around, and the best ones still to come
We often get asked by devs and industry teams whether a certain game is eligible to take part. We're looking for great indie games that have been released recently or are still in development right now.
If your game was released 2nd half of 2020 or is still being developed right now, then it is eligible.
We're not super strict on this — the more the merrier, and we're happy to help however we can, but if you are unsure then send us a message on social media or throw us an email to gwbcontact@tencent.com.
Prizes that devs need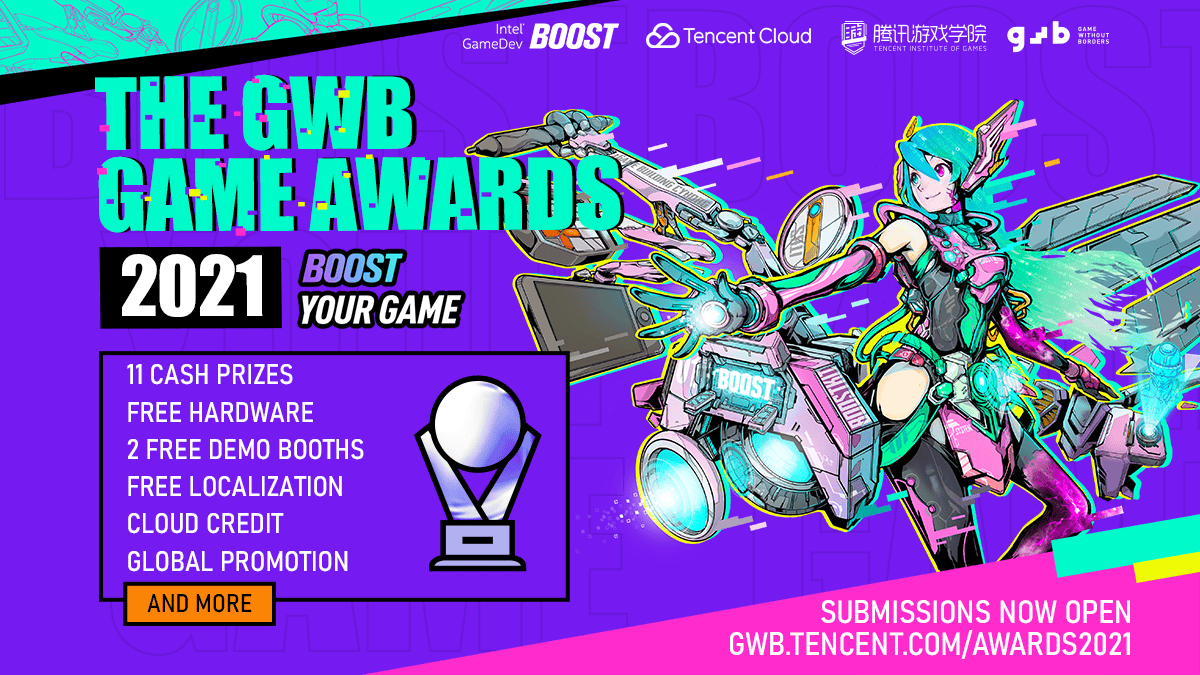 This year we've expanded our prize pool so that all winning teams can come away with something that they really need — different teams have different requirements and face different problems, and we hope to address that. Our list of prizes for this year is as follow:
1. 11 Cash prizes
2. Free Intel hardware for every winning team, courtesy of our partners at Intel GameDev Boost
3. Free demo booths — we will take 2 games to an industry event in China and get the game into the hands of players
4. Localization — one game will be localized into Chinese for free
5. Cloud Credit — the Best Multiplayer Game will receive Cloud Credit thanks to our friends at Tencent Cloud
Beyond that, we're also offering selected teams the opportunity to talk with an industry mentor as well as free global promotion and event inclusion.
Truly Global Promotion
We've had amazing partners helping us to promote GWB Awards participants on social media channels over the past year, helping to get games more exposure among players around the world. We've run content such as interviews, game spotlights and sizzle reels, and will be expanding that in the near future to include activities such as streaming and steam key giveaways.
However, beyond these channels and activities, GWB can also offer the opportunity to get your game in front of game lovers in China.
Over the past year, we've translated and run social media content about a variety of GWB Awards 2019 and 2020 entrants, and this will continue and expand in 2021. We're dedicated to getting more features, interviews and promotions than ever running on our Chinese-language channels, and this is an opportunity available to any team taking part in the GWB Awards 2021.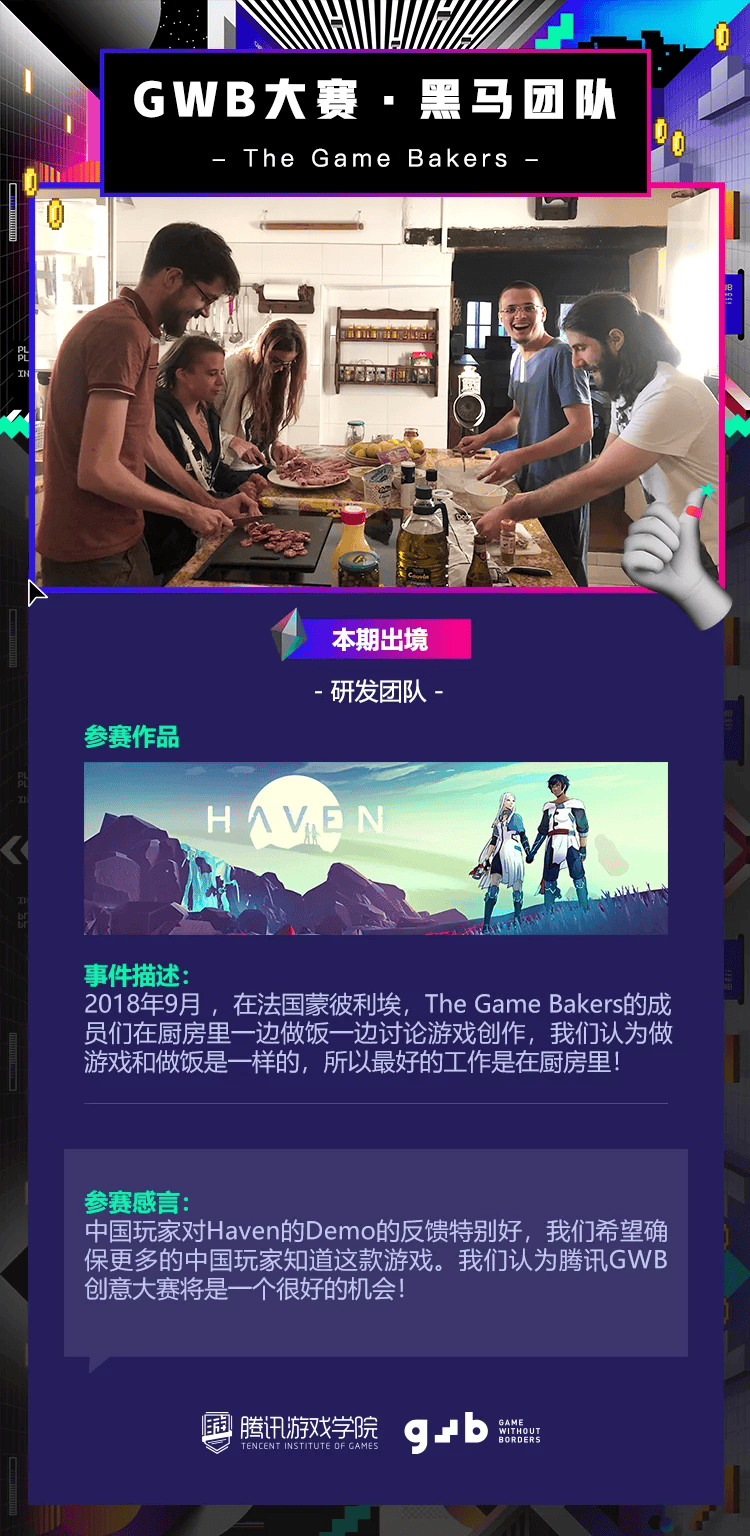 Taking Part
If you are interested in taking part, just head over to our awards page and submit your game for consideration. On this awards page you can learn more about the prizes on offer, learn about our incredible guest judging panel and also read up on the activity rules.
Once you opt to submit a game, you should create an account, login and just fill in the forms to submit your game. As always, if you have any questions just send us a message. There's not much more to it than that — we've tried to keep things as clear, quick and simple as possible.
One thing to keep in mind is that games can only be submitted from PC, so while you can view the mobile-friendly version of our 2021 awards page you will need to use a computer in order to take part.
What's Next?
We will be talking more about our partners, judges and events in the coming weeks and months. For now, we'll be watching games come in and start work immediately on promotional opportunities for these games.
To stay up to date with any GWB news, follow us on your preferred social media channels below:
And, don't forget to sign up for the awards by visiting our website.
Thank you for your time, and we look forward to seeing your game soon.