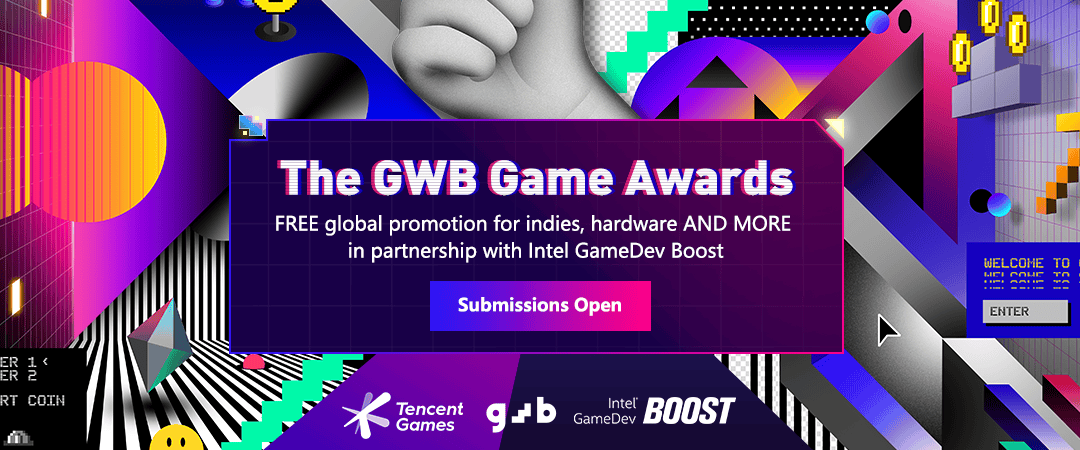 An Announcement about the Tencent GWB Game Awards Submission Period
Around 2 months ago we announced that submissions were open for the Tencent GWB Game Awards 2020. In the time we've been promoting the activity we've seen more than 100 devs and studios sign up, with more than half have having already submitted a demo or build. In terms of geography, more than 30 different countries are currently represented in the awards, with locations ranging from Argentina to Japan, via Morocco and India (it'd be a long trip).
By spotlighting games and revealing judges over time, we have been able to maintain visibility in the awards, and interest has grown with submissions remaining steady. We already have some ideas for our 3rd and 4th round of spotlights, and we will also be running content relating to selected games on our Chinese channels. In short, the GWB Awards seem to be resonating with developers and we thank you all for your interest and support.
However, we've also had teams contacting us to ask about the deadline, as they are worried they might not be able to submit in time. Work From Home has been a problem for many studios and it's making it harder for them to take part in the competition. The fact is, it doesn't make sense for us to have an indie competition if we ignore the needs of indies. With that in mind, we have opted to extend the submission period.
The submission period was originally intended to close some time in June, with results announced in August. Now, submission will close in August with results announced in Mid-to-late October. This should, hopefully, give teams that wish to participate enough time to create a build that is ready for submission.
Does this change anything else regarding the current awards setup? No. The judges are still on-board. We will still be spotlighting games. We will still be unveiling more partners and judges over time. Winning teams will still receive prizes such as hardware (and we will be revealing a new partner prize soon, so stay tuned). The awards are still for new and unreleased games. If you game released recently, it can enter. If your game is unfinished, it can enter.
The only difference is that developers have some extra time. We hope this helps ease the worries of teams who felt they might miss out this year. We understand your concerns, and we have made this change to try and accommodate for that.
Thank you, stay safe, and good luck in the competition,
Tencent GWB